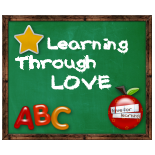 Letter Learning & Activities
This week we studied Pp and we had a
p
henomenal time!! I could not believe the number of Pp activities there were - my mind nearly exploded with the
p
ossibilities!
Treyton is flying through the code books and even letter learning at this point. That's why this week we added in alot of extra subjects and daily review because the Explode the Code and even writing doesn't take nearly as much time or energy (from either of us) to get through.
In the next couple of weeks we are going to do some letters that I don't have as many activities for so we may even combine some letters in the week (we'll see how it goes).
It took a little while for Treyton to get the hang of writing a lower case p, his perfectionist nature had a hard time accepting that he could write below the line. I decided to wait a while before I had him practice upper case P so that it didn't confuse him too much.
For review we did our consonant sound cards from Homeschool Creations - Treyton and I both really enjoy this activity. We also practiced writing letters b, m, r, t and k. (Treyton was tired by the time we got to f)
Fun Letter Activities and Crafts

Like I said before, I really feel like the Pp activities were endless I could hardly decide which activities to do!
Packer Game
- of course of Sunday we
had
to watch the Packer game!!
Paper Picture Placemats
- which I wrote a post on earlier
here
- this was one of my favorite activities EVER!
Painting Pink Pigs:
We talked about how there are different ways of painting. We decided to use paint brushes and a sponge technique (but we also talked about finger painting) to paint a couple pictures of a pig. Treyton preferred the sponge technique because he said it was "more fun".
(Treyton did a great job painting in the lines)


Pink Pig:
We cut out and glued a pink pig from a template I found from the best kids booksite a year or so ago and had saved. Treyton actually did a great job drawing the pigs face (his looked much better than mine). We added a pipe cleaner for a tail... we thought it was a cute addition.
Finger Painting Penguins
: We finger painted some penguins
Pajama Day
Puzzle
: as part of pajama day Treyton also worked on his alphabet puzzle. I got this puzzle when I went to CHEA this last May but Treyton really struggled with it and I put it away for another time. This week when I said we were going to do a puzzle Treyton said he wanted to do a hard one - he picked this one out himself and did it totally on his own the first time. It is truly amazing just how much he is soaking up this year and how far he has come!!
Popcorn
Snack: I had planned to use some of the popcorn for a craft but the popcorn didn't stand a chance only an hour before lunch!!
Math
We did Pattern Matching and Penny Counting from our Activity Box. Treyton is a pro at pattern matching now!
Bible
God Made People
This week our Bible story was about how God made
p
eople. After we read the Bible story we took some play-doh and made some of our own people. We talked about how different and special each person is - some tall, some short, some thin some round. We also asked some hard questions like "Why do you think God made you?"
Prayer
We did a second Bible story later in the week about Joshua and how God made the sun stand still and how when we pray God listens to us. We chose to pray for a special person in our life we then made a prayer note and mailed it.
This was a particularly fun activity for Treyton because we talked about how mail worked and what all we needed to do before we could mail a letter. Treyton had lots of questions - I'll probaly get a book next week from the library regarding the post office/postal system because he showed such an interest.
~ Just a little note here - a great book we have and read during this time is called "Does God Hear My Prayer?" You can find it below in my widget - I think it's a great children's book on prayer.
Daily Binder
I wrote on this earlier in the week
here
but I just wanted to touch base and let you all know how it's going ---- and it's going AMAZING!! I LOVE it and I can't wait to see where this may lead.
Calendar time
is going well, everyday Treyton seems to remember a little more and in this past week he has gone from counting to 12 to counting to 30 (today). He still struggles a little with the teens (13, 14, 15) but is even improving on these.
Geography
this week Treyton asked to learn two more states - we picked Michigan (where they make cars) and South Dakota (where there is a mountain with faces on it) and so far he has gotten them right everyday. The truly amazing thing is that it was only Saturday that he learned Tennessee and Texas and he's gotten them right every day as well. I almost feel like he's learning the states too quickly, but I don't feel right holding back when he specifically asks to learn a new state. He now knows 13 states.
Weather Graphs
Treyton loves the weather section, I won't say it's his favorite because right now he really likes all of them but he is definitely excited to do this one --- maybe because it's new and easy - compared to the calendar which is also new but harder for him to learn.
Science

We live in an area with a lot of paper mills. One day we were passing one and Treyton asked what it was. I told him "that's where they make paper" Treyton said "How do they make paper?". We were actually on our way home from the library where I had just picked up a book called "from tree to paper" (see below in the widget). We read this book several times throughout the week. I wanted to come up with an activity of making our own paper but never got around to it... maybe next week...


Reading
This week we also started "Teaching Your Child to Read in 100 Easy Lessons". We just finishe
d lesson 5 and so far it is going great. It is hard work for Treyton but he really wants to learn to read so he seems willing to put in the extra effort. To be honest I was a little overwhelmed at first (worried about saying the wrong sound or pronouncing it wrong, etc.) but so far I haven't faced anything to difficult.
Our greatest struggle came today with lesson 5 (learning the long e sound, because on his video that he watches e says "egh" as in egg). I tried to simply explain, without going off script too much, that the letter Ee can make two different sounds. He seemed to understand, but he didn't have to like it! :~)
We'll see how it goes in the next few weeks.... pray for us.... I'm nervous.
Books We Used this Week
There were actually alot more books we used this week but for some reason I couldn't find them on Amazon.