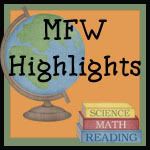 I had BIG plans for this week, and while I think we did a lot, we only did half of what I had planned. Oh, well, I should have known, Treyton and I's birthdays were on Friday and Saturday, we had an unexpected (but awesome) field trip come up, and I ended up having a headache every day from Wednesday on, that I COULD NOT get rid of (sigh).
However, I know God is in control, and what He wanted the kids to learn, they did.
Books We Read:
North American Indians by Marie and Douglas Gorsline
Life in a Long House Village by Bobbie Kalman
Small Wolf by Nathaniel Benchley
…. If you lived with the Hopi by Anne Kamma
….. If you lived with the Iroquois by Ellen Levine
Squanto: Friend of the Pilgrims by Clyde Robert Bulla
Crafts & Activities
On Day 1, Treyton built a Wigwam. I thought the directions were a little difficult to follow out of the My Father's World manual (probably because there weren't any pictures) so I found an easy to follow wigwam in More than Moccasins.
Treyton followed the simple directions I had almost entirely on his own to build the wigwam.  
It turned out really well, but sadly it only lasted 3 days before falling apart. I think I could have used stronger paper and it would have been more durable.
We also built Tepees which were a lot simpler than the wigwam. Treyton and I both decorated one.  
While I was at the Midwest Homeschoolers Convention, I picked up a corn husk doll kit, that I wanted to use either this week or next (for the pilgrims). I went ahead and used it this week.
Treyton was VERY excited about the end product and insists on keeping "Sam" in his room with him.
This activity produced a lot of great discussion about what life was like when America was first discovered and for the Native Americans. Not having stores and places to go to get whatever you needed (not to mention wanted) meant the kids had to play with toys they could make themselves or that their parents could make, when they had time. They didn't have rooms full of toys, but only a few small items to play with, because most of their time was spent helping their parents and family. Treyton really took this to heart and I think that's why he took to the corn-husk doll so much.
I found 2 Native American masks at JoAnns for $1 a long time ago and had picked them up. I pulled them out this week for a simple craft for the kids to work on.
Native American Artifacts
My sister-in-laws boyfriend is Potawatomi, and he was gracious enough to loan us a few things to look at during our studies. The neatest part was that I saved this activity until Wendesday, so we had already been reading about Indians for a while, there were a couple of things Treyton had pointed out in the books asking what they were, one of them just happened to be a baby carrier – one of the items Ken had let us borrow.
Because the items were borrowed, I was very cautious with how much I would let Treyton "play" with them, though he did particularly enjoy the bark canoe and tepee.
Native American Lapjournal
I had several other lapjournal pieces I wanted to add, but we just never got around to discussing them or putting them in.
That's okay though, they still turned out really nice.
For art we are doing I Can Do All Things, we are going slower than MFW recommends, but Treyton is really enjoying it.
He gets really goofy any time he is drawing – he makes up lots of stories and "what if" scenarios". And usually he wants to add to whatever the book tells him to do, I usually need to sit right next to him to keep him on task. He is doing a great job with it, though and really seems to be remembering the concepts that he is learning.    
We are still loving the All About Spelling Program, in fact I just ordered the stuff I will need for Level 2, we are up to step 17 this week.
Treyton prefers to write over using the spelling tiles, but I think it's only because he's quicker at it. I still have him do both, though because I think it's a good to have such a multi-sensory approach to any subjects, but definitely spelling.
This week Treyton learned that both c and k make the /k/ sound, but that we try c first. He also learned that if a c is before i, e, or y it says /s/.
I was very surprised on how quickly he picked this up (I only had to tell him once and he remembered the rules the following day).
Singapore Math is really starting to grow on me. I am liking the mental math aspect. Treyton does not always like to write out the problems, and tends to do most math, in his head, which I know they say is a bad thing, but for now he is able to explain to me what he is doing, why he does it, and he's coming up with the correct answer. Treyton is currently in book 1B and is learning how to add numbers up to 40.
Extra Links and Resources
Check out my Pinterest - Refined Metals Native American  Board for more of those ideas and links I was going to use but never got around to.